Rose had the day packed with fun. Thankfully it started with a large pot of coffee.
Before I finished my third cup, LittleNick (my soon to be stepbrother, not to be confused with MyNick, the studly and cuddly love o' my life) had already done three science experiments, most of which involved the microwave.
Here he is modeling what's left of a frozen waterballon.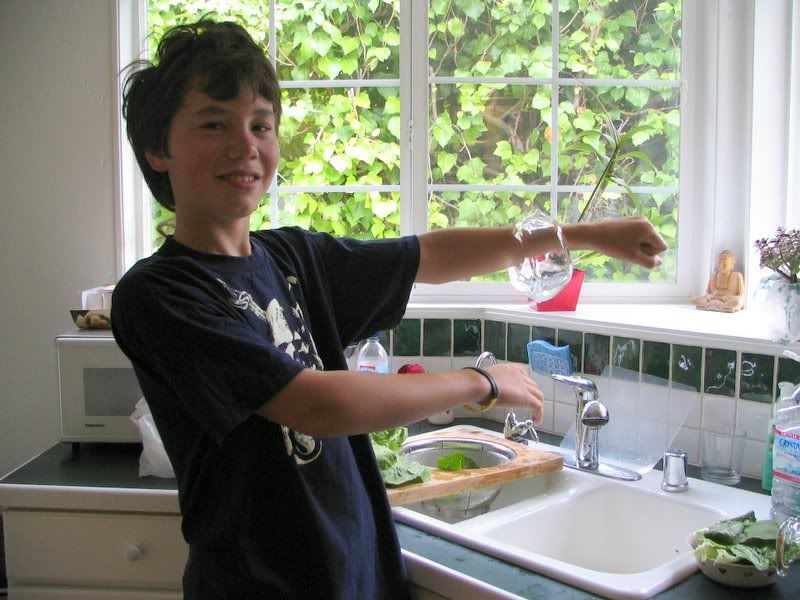 When I helped him make a diet pepsi and mentos geiser that was taller than we were, in the middle of the street, I think he decided that I was cool.
*grin*
We went to breakfast at a nearby cafe. I had an omlette and a mimosa. LittleNick had half a canister of sugar in his grapefruit juice. A man offered to sing us an aria.
Ain't life grand?

We were joined by my adorably odd Uncle Bo. And when I say odd, I mean ODD. In the best possible sense. I heart him.

Then we went sailing with Rose's friends.
Miss Kendra knitted. I took pictures. My father tied LittleNick to the mast. I couldn't believe it could be that cold in August. It was lovely.
Then Rose took me to see the buffalo in Golden Gate Park. They do exist!!
Then off to dinner in Chinatown, yummy, and home to crash, exhausted.
Here's a shot of my sparkly shoes on the sparkly sidewalk.
To be continued .........