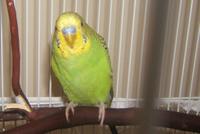 I know a sick parakeet isn't a big deal to most people out there, but my little Ikey-bird is sick and he's going to the vet at 4 (the earliest my boss would let me go) and I'm worried about him, sitting alone at home until then, because he means the world to me.
If you pray, could you?
The God I worship says "Are not five sparrows sold for two pennies? Yet not one of them is forgotten by God."